gtk+ 2.0 Change Theme
Wednesday, 4 Nov 2009
About
As the name suggests, this little program lets you change your gtk+ 2.0 theme. The aim is to make theme preview and selection as slick as possible. Themes installed on the system are presented for selection and previewed on the fly. For a comprehensive demonstration there's a large variety of widgets.
It was originally derived from Gtk Theme Switch, but what started out as a hack to remove various nuisances now shares no code whatsoever anymore with the original. This is why I decided to opt for a new name.
Screenshots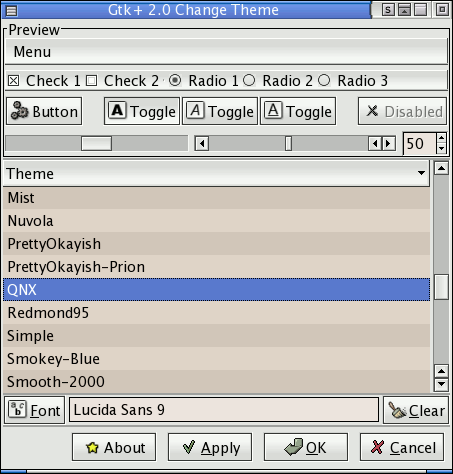 Download
Version 0.3.1
Version 0.3
Version 0.2
Version 0.1
Changelog
Changes in 0.3.1:
Fixes for a number of a packaging glitches.
Changes in 0.3:
Added writing gtk-font-name setting.
Added [Apply] button.
Added RPM .spec file.
Added this ChangeLog.
Another major code reorganization, some cleanup ensued.
Removed clearing of font upon theme selection change.
Removed notebook, moved preview panel onto main view, removed textarea from preview panel.
Renamed all references to "demo" to "preview."
Added blocking of main window when font dialog is shown.
Added disabling of font clear button; fixes segfault when clicked before any theme selected.
Added parsing of existing .gtkrc to preset widgets
Made all widgets in preview pane unfocussable with keyboard.
Thanks to help from Andre Costa and Pascal Bleser, RPM packages are now available.
Changes in 0.2:
Massive code cleanup and reorganization.
Lots of minor improvements for the demo tab.
Changes in 0.1:
Based on Gtk Theme Switch.
Tarball installation features removed.
Theme directories that do not contain a gtk+ theme are not offered for selection.
Theme names are presented in a scrollable list rather than a combobox.
The dialog window updates itself as a preview rather than opening a separate window.
Integrate the preview into the main window, putting the selection and preview controls in tabs.
[Preview] button removed, preview happens immediately when a selection is made.
Buttons renamed to [Ok] [Cancel].
Use stock icons as much as possible.